Apple deserves some credit for creating consumer electronics, it also means that people are more willing to steal them. And if that happens to you, it might lose a lot more than just a phone. You could easily lose your identity, your personal data, and maybe some bad people will use your phone number to send messages to your relatives, friends for money, and you may lose trust of your friends.
So bad! It is more than a disaster!
So when you discover that your iPhone has been stolen, dozens of thoughts may race through your head. Anger, worry, surprise are all likely to pop up. But what you really need to do is to take some useful actions. While there's no guarantee that these steps will get your iPhone back, they won't hurt and will succeed in some cases.
1. Change Your Passwords
When we use our own phone, we are likely to choose the option "Remember password" so that we don't need to enter passwords every time we use the apps, such as email account, facebook, online bank account, and so on. So it is always a good advice to change these passwords to prevent the thief from abusing.
2. Track the iPhone
Though it has slim hope to find the iPhone back, we should not give up any effort to do it. There are a number of ways to use the iPhone's built-in GPS to track a stolen iPhone. Apple's free Find My iPhone service and many third-party apps from the
App Store
will help you locate the phone geographically. Some of these apps such as Find My iPhone also allow you to change security settings remotely.
3. Get Police Help if You Locate Your iPhone Successfully
If you've been able to locate your stolen iPhone via a GPS-based tracking app, don't try to recover it yourself. Going to the house of the person who stole your phone is a certain recipe for trouble. Instead, contact the police department, make sure to have your report information at hand, and let them know that you've got additional information about the location of the stolen phone. The police ought to be willing to recover the phone for you.
4. Delete the Data if You Failed to Track the iPhone
If you can't get the stolen iPhone back, or it's taking too long, you may want to delete the phone's data. You can do this over the web using MobileMe or some of the other tracking apps. This won't prevent the thief from using your iPhone, but at least they won't have access to your personal data after that.
5. Recover Data on Your iPhone
If you have an iTunes backup before iPhone is stolen, you can recover these data from the iTunes backup. Since your iPhone is not available, so the iTunes backup is necessary to perform the
data recovery for your iPhone
. So now you have confirmed the importance to make a regular and frequent backup of your iPhone.
How to Restore iPhone Data from iTunes Backup
Firstly, you need a data recovery for iTunes backup,
Tenorshare iTunes data recovery
is recommended here. It is easy to use with a reasonable price. Now I will give a brief introduction of how to use it. You can learn more from:
http://www.windowspasswordsrecovery.com/itunes-data-recovery/guide.html
Step 1: After the right download and installation of this software, run it on your computer. The main interface is shown as below.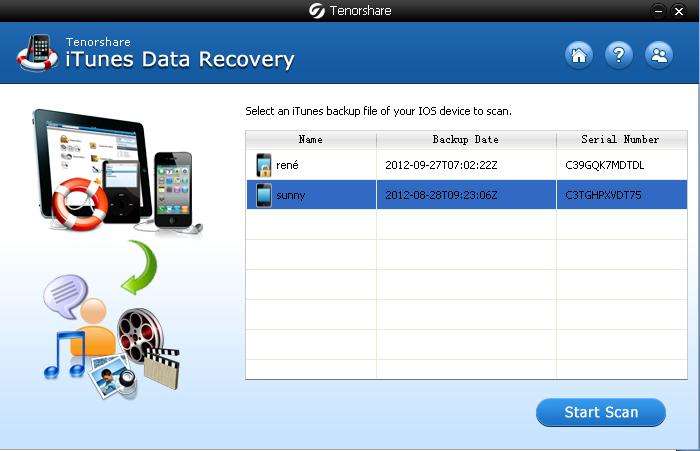 There is a list of devices that ever synced with this computer. Choose your backup according to the device name and click "Start Scan".
Step 2: When scan is done, you are allowed to preview the data on the program, meantime, mark your wanted ones.
Step 3: Press "Recover" button if you have decided what to recover. Then specify a save path in the pop up window.
Now though your iPhone is stolen, you important data such as contacts, photos, text messages, call history, notes, bookmarks and so on in the iTunes backup are back. This however comforts you to some degree.
Note:
This is also fit for other iDevice's backup, such as iPad, iPod touch backup. And want to recover data directly from iOS devices and have no iTunes backup, you need to use
iPhone data recovery
.